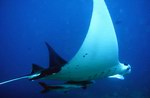 We have developed a special Socotra Tour for free divers to show you the most interesting places of the island both on earth and underwater.
These are people living on Samha Island.
The government of the Republic of Yemen and the Kuwait Fund of Arabic economic development have signed an agreement on provision of Yemen with a loan in support of the Socotra's new port construction project for value of 11,8 million Kuwaiti dinar (about 41 million USA dollars).
The north-western part of Socotra is planned for construction of a new sea port. The field research works are about to be completed.
Socotra was a refuge for pirates for centuries.
Tags